Grumpy Cat is in his element!
Credits: Nebraska Humane Society via Nebraska Humane Society and GIPHY
The killer selfies are the worst. This was a public service message from the Gifville Mobile Phone Safety Society.
Credits: Animated GIFs via demonmaster and FunnyJunk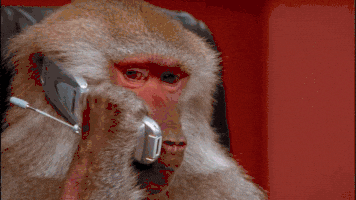 At work I'm winding my way through an international list of clients who have been marked as having left their companies. Sometimes the people I speak to make me look as confused (and attentive) as this monkey. Especially when the line is really bad. Strain. To. Hear. Lord I need a banana to calm my nerves.
Credits: Giphy via Liliane Brain, GIFS to share. GIFS à partager. and Facebook