All over Gifville, on every frequency.
Credits: STAN THE"COUNCIL CLEANSING PLANT OPERATIVE"BINMAN via GifCities and Internet Archive
Larry the record shop cat was always into the latest tunes. Charlie XCX, Foxes, Florence and the Machine, Tinariwen… but ironically, nothing from Cats: The Musical.
GIF: image006                                                                                                                                               DATE: 15/07/2009
Credit: c_kick and totalleh.com via Ratedesi Forums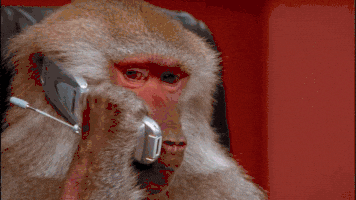 At work I'm winding my way through an international list of clients who have been marked as having left their companies. Sometimes the people I speak to make me look as confused (and attentive) as this monkey. Especially when the line is really bad. Strain. To. Hear. Lord I need a banana to calm my nerves.
Credits: Giphy via Liliane Brain, GIFS to share. GIFS à partager. and Facebook