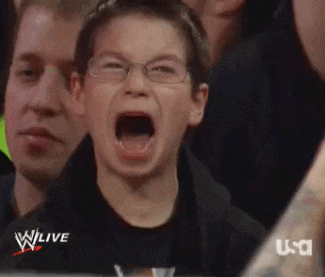 Not the chair, Brock Lesnar, not the chair!!!
Credits: WWE and USA Network via WWE, GIPHY, Şeyda Üzmez, GIFs Community and Facebook
More wrestling clips from us folks. This time the green paint spray-loving duo that is DX (Shawn Michaels and Triple H) perform their famous pose, but The Game seems to have quaffed one too many of Stone Cold Steve Austin's beers!
GIF: dx failed pose                                                                                                  DATE: 26/07/2008
Credits: WWE and USA Network via Ratedesi Forums
Some classic WWE memorabilia for today. Triple H and Shawn Michaels, of the former wrestling outfit DX, leave behind a little graffitied memento of their green accentuated awesomeness.
GIF: Dx                                                                                                                               DATE: 11/07/2008
Credits: WWE and USA Network via Ratedesi Forums