Wishing my FIFA 16 and football-mad little bro a very happy 18th birthday.
Credit: makeagif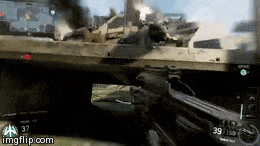 Wishing a big happy birthday to my littlest brother Arjun today. He is a massive Call of Duty fanatic and is notorious for his wall running and quickscopes. You have been warned.
HAPPY BIRTHDAY BUJU!!
Credits: imgflip via SURPRISE, MUTHA****A, Tumblr and Giphy