After last night's binge, this kitty was, well, almost catatonic.
Credits: GifGif via Milorad Vidojevic, GIFs Community and Facebook
After a long day on the private equity treadmill and a short evening downing uncountable measures of cognac, 58-year-old businessman Hywel finds the stairs outside West Malling rail station a tad confusing. Witness a fall down the flights that's a great deal of amusement for the observer and a great deal of pain for poor old Hywel. Let's hope he made it in one piece home to the long-suffering missus.
Credits: Animated GIFs via Giphy, UpsGif, Mohamed Rhouma, GIFs Community and Facebook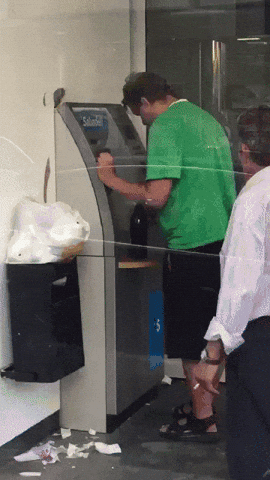 What surprises me is that this man could a) figure out where his wallet was and where to insert the card, and b) overcome the strong desire to drop his shorts and pee all over it.
Credits: gfycat and Reddit GIFs via Giphy, The best Gifs and Facebook