Even the hammer wielding Norse god of thunder can have his slip-up moments.
Credits: Marvel Studios via Ilario (úquen), Animated Gif and Google+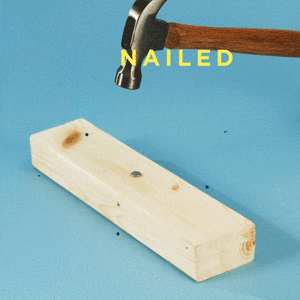 … and by this I don't mean the final nail in someone's coffin.
Credits: Slanted Studios via Slanted Studios and Giphy
A scene from the 1990 psychological thriller Misery, where obsessed creep Annie Wilkes (Kathy Bates), smashes in the foot of author Paul Sheldon (James Caan), whom Annie has kept prisoner in her home. I've seen this movie and Annie gave me the shivers. Now you won't escape hurr hurr hurr!!
GIF: MiseryMYSPACE                                                                                                DATE: 24/05/2008
Credits: Simon Dion and Myspace via Ratedesi Forums