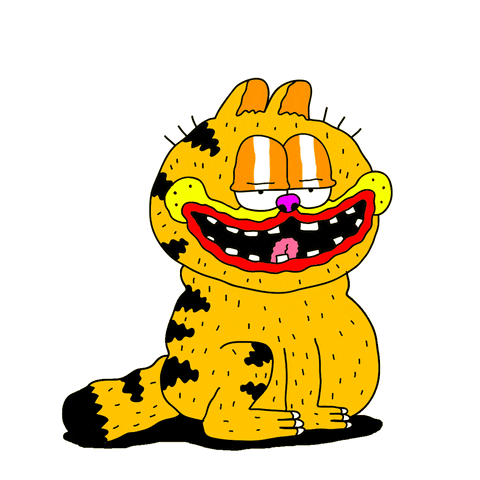 He likey the laserrgne!
Credits: LOLCODYBOND and Tumblr via Lolcodybond and Giphy

Lovable comic cat Garfield greets his friend Pooky only to find him a little on the warm side. Cue an accusation of hugging infidelity. This GIF was produced by Ghostworld UK and appeared on the now-closed Ratedesi Forums.
GIF: garfield_and_pooky_by_ghostworld_uk                                 DATE: 08/09/2007
Credits:  Jim Davis/Paws, Inc., Ghostworld UK and Ratedesi Forums
Our favourite lasagne-loving tubby cat seems to be a bit nervous…and who is that doeppelganger?
Credits: E.L-m and Pinger via ‎Jose Maria Maia, GIFS to share. GIFS à partager. and Facebook