If my bananas were this rubbery, I'd be concerned. If brown spots and spiders weren't enough to worry about in the world of the yellow gun-shaped fruit.
Credits: Emiliano Neroni via gfycat, Tumblr, Sune Orange Lilla, Awesome GIF's. and Facebook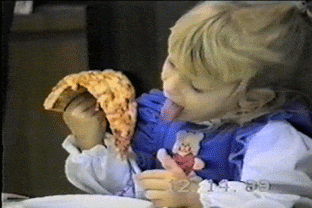 Unco-operative Italian dishes have been a funny moment at dinner tables across America for a long time, as this little girl in this home video from 1989 can vouch for.
Credits: America's Funniest Home Videos and Giphy