As the old Esso ads used to go, but nowadays the tigers tend to be quite… bloated!
Credit: gfycat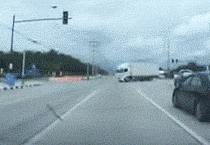 That's some masterful wheel control there, boss!
Credits: imgur via wosh2016, reddit r/gifs, GIPHY, Adrian Moigradan, GIFs Community and Facebook
Someone needs to teach these idiots the Green Cross Code. People, please never attempt to cross the street behind a large vehicle or run out without looking both ways.
Credits: GiFGiF via *GIFs, მე ვარ, GIFs Community, GIFs and Facebook