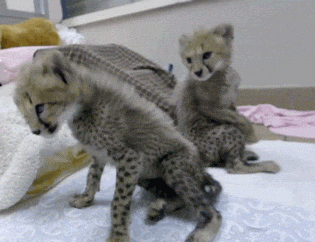 Playful cheetah cubs goofing around in the nursery of California's San Diego Zoo.
Credits: San Diego Zoo via San Diego Zoo and Giphy
True friendship multiplies the good in life and divides its evils. Strive to have friends, for life without friends is like life on a desert island… to find one real friend in a lifetime is good fortune; to keep them is a blessing. Friendship is always a sweet responsibility, never an opportunity.
Credits: Mr Geekyle and PicMix via Images animées ARTS GIFS and Facebook