Live pictures just in.
Credits: GifGifMagazine via Ivana Ljupša, GIFs Community and Facebook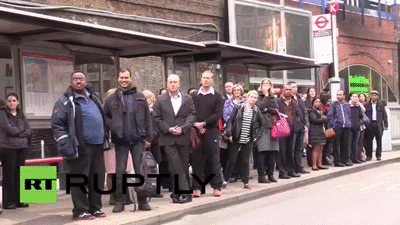 From Sunday 8 to Monday 9 January, 2017, station staff working for transport firm TfL in London went on strike, causing major disruption to commuters. I managed to beat the worse of the strike by getting up extra early at 4.30 am, taking a 115 bus to Aldgate and then a Paddington-bound 205 from just outside Aldgate East tube station. I finally reached my office in Euston at around 7.45 am. Not bad. Thank goodness it's only one day.
Credits: Russia Today Ruptly via London24 and Giphy